Scott Thomas 1951-2006 RIP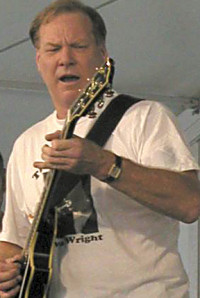 Scott Thomas 1951-2006
L. Scott Thomas, lifetime resident of greater New Orleans, died at the age of 55 at his home on Saturday, June 3, 2006 of heart failure. Son of Jane Newtz Thomas and the late George P. Thomas. Surviving family includes brothers, David C. Thomas and George P. Thomas, Jr., and many nieces and nephews. Scott spent a lifetime playing the guitar, traveled the world playing with the likes of Marva Wright and most recently playing with the rising star, Amanda Shaw. Scott was Lead Guitarist with Marva Wright and the BMWs for over 8 years. He was a verstile musician playing everything from blues to rock. Scott was always ready to do whatever he could to make folks happy all over the world. Scott will be missed by his fellow bandmembers and Marva Wright, his family, friends and the entire New Orleans musical community.
************************
Home | Bio | Gigs | Discography | Photos | Order | Links | Jazz Fest | Guestbook | Email